Our Design Thinking Approach
We pride ourselves on our design thinking approach to understand our client's unique needs and goals and to deliver solutions that exceed their expectations.​​
EMPATHIZE - DEFINE - IDEATE - PROTOTYPE - TEST - IMPLEMENT

Our Work Culture
Our team works closely with clients to understand their business processes and to identify areas where technology can be leveraged to improve efficiency and drive growth.

Capabilities
We are committed to using the latest technologies and industry best practices to deliver high-quality software that is reliable, secure, and easy to use.​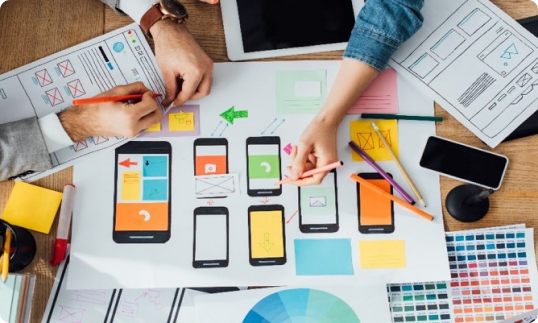 Your team is doing a great job and making us very comfortable with the continuous updates and with actual real progress.. it really has been a breath of fresh air in our website development process (wish we had started with you in the first place)
Samir Sarraf
Frame it For Me

Your team consistently goes above and beyond our expectations, and everything we've worked on with you has been a complete success. You're absolutely invaluable to us, and we look forward to continuing to work with you as strategic partners.
Salim Khuwaja
ParTech Global

We have developed a great partnership with Synergates, their dedication and hard work towards building my business are evident in all aspects. We appreciate their attention to detail and creative approach to bringing our
Amyn Hemani
CrewOnSet